Aquron Authorized Dealer / Applicator

Aquron Authorized Dealer / Applicator

The Aquron Corporation has helped to protect and preserve concrete and stone structures since 1985 with a number of amazing manufactured products. The same technology used for years in the concrete industry is now being focused on the Pool Industry, through their Aquron Aquatics division.
Concrete is not waterproof, and neither is the plaster coat or the mortar and grout used in coping and tile applications. Moisture that migrates into and through a pool shell is very destructive to the structure. Soluble salts in the concrete move with the water and present as efflorescence. Moisture in concrete combines with oxygen and corrodes the reinforcing steel, causing the steel to expand and crack the concrete, as does Freeze/Thaw Cycles. Leeching of the pool chemicals through the shell wall into our environmentally fragile ground water supply has raised much concern.
Fortunately, we're able to proactively address all of these issues with the use of Aquron products. No other product comes close to protecting the concrete and extending the life of your pool like the products from Aquron Aquatics. 

APSP – "The Association of Pool & Spa Professionals"
APSP – "The Association of Pool & Spa Professionals"
The APSP is the world's largest international trade association representing the swimming pool, spa, hot tub and recreational water industries. APSP is the leading industry advocate promoting professional best practices through education, industry standards, and safety.
APSP members adhere to a code of ethics in business and technical practices and share a strong commitment to the safe, healthful, and enjoyable use of industry products.
The APSP effectively replaced another well-known industry organization known as "National Pool and Spa Institute" or NSPI in 2006.
More information at www.APSP.org.
APSP Member Code of Ethics
All members of The Association of Pool & Spa Professionals agree to observe and be dedicated to the following principles and policies:
To promote the concepts of free enterprise and service to the public and the industry.
To strive continually to gain respect for the industry, both in the local community and on the regional and national levels.
To contribute to the health, safety and welfare of the public in the installation, maintenance and operation of swimming pools, spas and hot tubs, and to comply with applicable laws, ordinances and regulations.
To support efforts to improve swimming pool, spa and hot tub products and services, and to encourage research and development of new materials, techniques and methods.
To avoid statements which will mislead customers in advertising and other efforts to sell products.
BBB – "Better Business Bureau"

BBB – "Better Business Bureau"

The BBB is a private, non-profit organization whose mission is to promote and foster the highest ethical standards between companies and their customers in the areas of:
Dependable Service
Honesty In Advertising
Honest Business Practices
Reliable Complaint Handling Procedures
Examples of services provided by the BBB are Business Reliability Reports, Dispute Resolution, Truth-in-Advertising, Consumer and Business Education and Charity Review.
To be a member of the BBB, an applicant must:
Be invited to apply for membership by a staff person or Director of the Bureau.
Be actively engaged in business, in the BBB's service area, for no less than 6 months.
Supply background information about the company, its principals or other information deemed essential to the BBB.
Cooperate with the BBB's activities and efforts to promote voluntary self-regulation within the business industry.
Adhere to established BBB standards of advertising and selling, including the Code of Online Business Practices for online businesses that apply for the BBBOnLine Reliability logo, and cooperate with the BBB in matters relating thereto.
Promptly respond to any and all complaints forwarded by the BBB, and make good faith efforts to resolve all such complaints in accordance with generally accepted good business practices.
Comply with any decisions rendered through the Bureau's or an alternative provider's binding arbitration program.
Eliminate the underlying causes of patterns of consumer complaints that the BBB may call to the company's attention.
Be free from an unsatisfactory report at the BBB in whose service area the company is headquartered.
Be free from any governmental action concerning the marketplace and its customers that demonstrates a significant failure of the company to support the principals and purposes of the BBB.
Support the principles and purposes of the BBB and not engage in any activity that reflects unfavorably on the BBB and its members.
Refrain from using the name or logo of the BBB for commercial, sales or advertising purposes in any manner not specifically authorized in writing by the BBB.
Promptly notify the Bureau of any changes in ownership, licensing status, addresses, telephone numbers, web site and any other information deemed necessary by the Bureau.
Fulfill all licensing and bonding requirements of applicable city, county, state and federal agencies and authorities, and provide license numbers upon application for BBB membership and provide periodic updates on request of the BBB.
Businesses earning the right to be included in this organization have a strong reputation of taking care of their customers. More information at: Better Business Bureau
Better Business Bureau Recognizes Aquascapes, LLC with another "Pinnacle Winner" Award for 2014
In May 2014, Aquascapes, LLC, received the "Pinnacle Winner" Award for the second year in a row at the Better Business Bureau Awards for Excellence luncheon in Houston.
The BBB Awards for Excellence recognizes businesses and non-profits for their achievements and commitment to overall excellence and quality in the workplace. Proceeds from the event help fund the BBB Education Foundation which educates consumers about scams and fraudulent business practices in the Greater Houston area.
When asked what it means to Aquascapes, LLC. to receive this recognition, Walter Prescott, states "We work hard to provide top notch service to our customers and clients and it is an honor to be recognized for our efforts."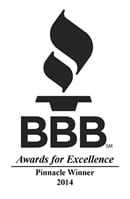 Carecraft is composed of pool/spa designers, builders, and accessory & supply retailers across the United States who have joined together to form a nationwide member-owned association. Only select industry professionals are invited to join, and all must pass rigorous standards of quality control, reputation, and customer relations, in addition to customer concern of each company.
Carecraft was created for consumers to ensure the highest quality in all aspects of pool design & construction. When you invest in a Carecraft member company, you are assured of the finest equipment and experienced workmanship, all at a price that is tailored to your budget and lifestyle.
CPO® – Certified Pool Operator®

CPO® – Certified Pool Operator®

The Certified Pool/Spa Operator® certification program has delivered more training than any other program in the pool and spa industry since 1972, resulting in more than 200,000 successful CPO® certifications in 44 countries.
CPO® certification courses are designed to provide individuals with the basic knowledge, techniques, and skills of pool and spa operations. It covers 14-16 hours of information from the NSPF® Pool & Spa OperatorTM Handbook (provided) and local codes taught by an NSPF® Instructor.
Instructors receive comprehensive training and certification to teach the CPO® certification program. These instructors represent every segment in the aquatic industry including operators, health officials, service professionals, builders, manufacturers, property managers, retailers, and academicians. The training these instructors provide has helped protect millions of swimmers by reducing hazards at aquatic facilities.
The CPO® program is widely accepted by health departments. More information at cpo.training.com.


The Jandy "Pro-Edge" designation is reserved for a select few Jandy dealers who meet strict requirements for capability, reputation and customer satisfaction. Most Jandy equipment (pumps, filters, heaters, etc.) that is installed by an official Jandy Pro-Edge builder (such as Aquascapes) receives a three year warranty instead of the normal one-year warranty.
Jandy® pool and spa products are designed to let you spend time enjoying your pool and spa, rather than maintaining it. From their award-winning control systems and pool and spa heaters to waterfalls, automatic cleaners, and more, Jandy® products offer the convenience, performance and advanced technology you demand.
More information about Jandy at jandy.com.
Tomball Chamber of Commerce

Tomball Chamber of Commerce

The Greater Tomball Area Chamber of Commerce exists to provide resources and foster relationships that empower businesses to prosper.
Though incorporated in 1965, the Greater Tomball Area Chamber of Commerce was first organized in the 1920s. Our Chamber has an excellent reputation for representing the interests of our members. And the Greater Tomball Area Chamber of Commerce is recognized throughout Texas for its passionate advocacy for the community.
People join a Chamber of Commerce for different reasons. Some people want the chance to network with other business and community leaders. Some welcome the publicity that active involvement in Chamber activities can generate about their own business. Some people want the opportunity to have a role in community affairs. The Greater Tomball Area Chamber of Commerce works hard to help our members achieve any and all of these objectives.
The Chamber has a core of active volunteers who are committed to fulfilling the Mission of the Chamber. Through their participation, they achieve, and help other members achieve, the objectives listed above. These volunteers lead and serve on the key committees and task forces. The Chamber's programs are divided into four major categories: Economic Development, Membership Development, Community Services and Special Events.
More information at www.tomballchamber.org.


Zodiac is a leading global manufacturer of differentiated pool and spa products. With their rich heritage of innovation excellence, they develop some of the world's leading products that afford customers a better life.
The company's comprehensive product lines are marketed under the leading brand names of Baracuda®, Jandy®, Nature2®, Polaris®, and Cover-Pools®. Zodiac is the leading provider of premium, innovative pool and spa products and is committed to designing and producing the most energy efficient, earth-friendly pool products and systems available.
15 Years in Business. 1000s of Pools Built. 1000s of Satisfied Customers.
Our expert swimming pool builders handle inground gunite pool installations for residential and commercial properties within approximately 75 miles of our business location. We've worked with many of your neighbors in the following areas:
Tomball/Magnolia
The Woodlands
Spring
Sugarland
Pearland
Galveston
Not sure if we service your area? Call us today at (281) 351-1800 for a free consultation. At Aquascapes Pools & Spa, we want to help you get the new swimming pool you've been dreaming of.






If you have questions about a commercial or residential project or would like to schedule a no-obligation, one-on-one consultation with one of our designers, please call us at (281) 351-1800. If you prefer, you can e-mail us at info@aquascapespools.com.