Custom Swimming Pool Features
Make your backyard a beautiful addition to your home by integrating fun and visually stunning pool water features. Our design team can help you plan out the right features for a custom pool including waterfalls, slides, bubblers, deck jets, bridges and more! Contact us today at (281) 351-1800 to get started. Have your own unique idea? Share it with us–we can make your vision a reality!
Waterfalls
Waterfalls add a sense of customization and calmness to any swimming pool. Many people enjoy the sound of rushing water and find it as a calming addition to a backyard oasis. From small rock falls to larger spillover effects, we can re-create any waterfall concept you desire.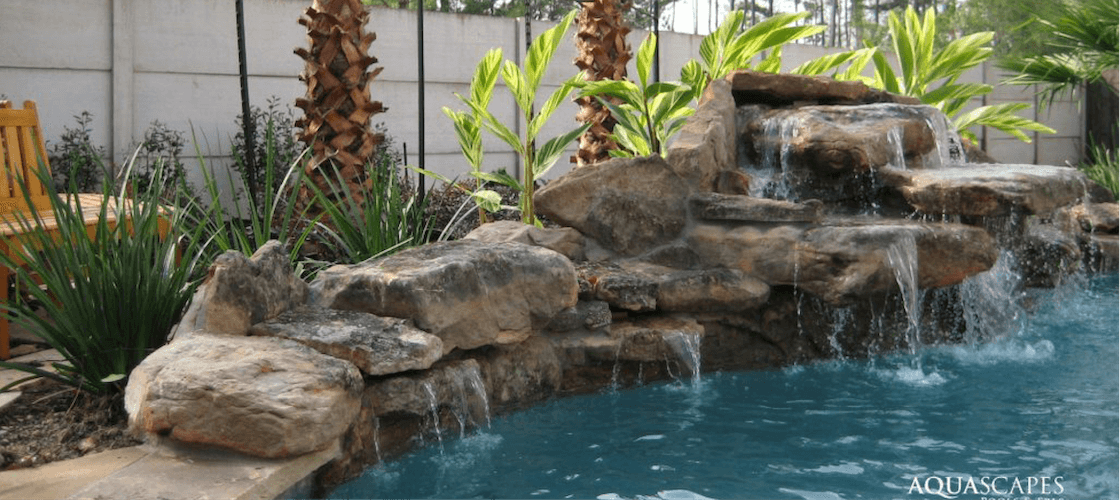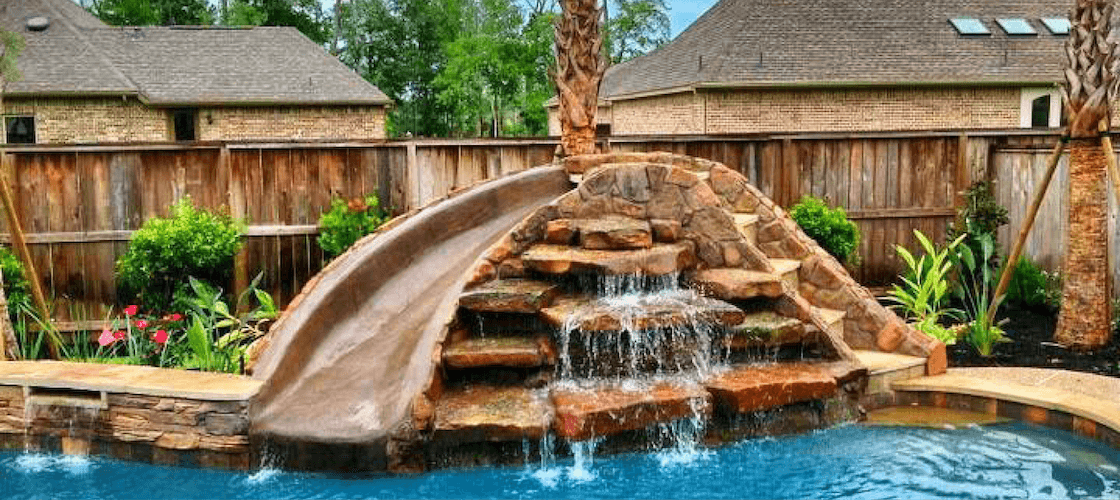 Slides
A favorite among kids and families–pool slides provide a fun feature to your custom pool! Small or large slides can be constructed from various locations around your pool including wrapping around a rock waterfall.
Scuppers
Scuppers can come in many different styles and sizes and can look beautiful in your pool. Many people enjoy scupper features because they're both calming and visually stunning.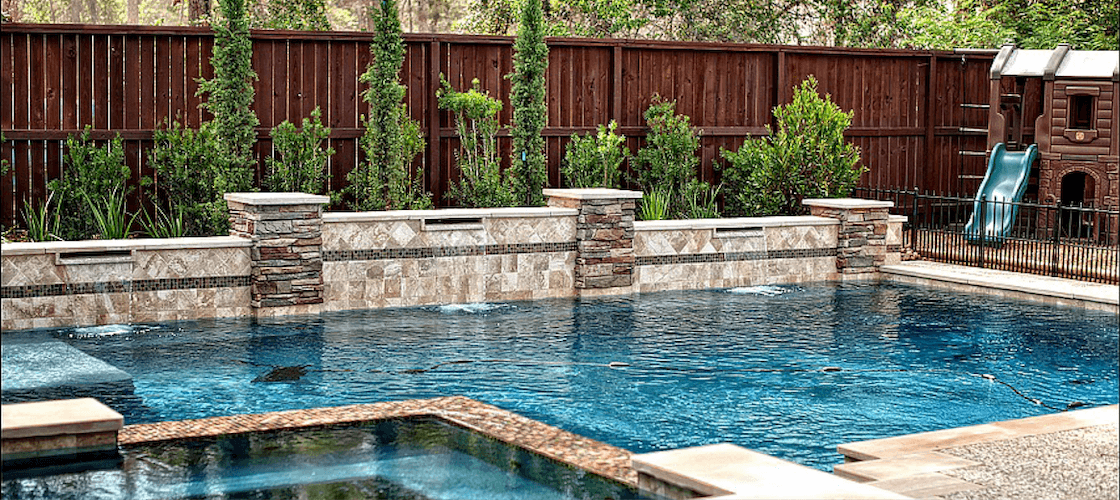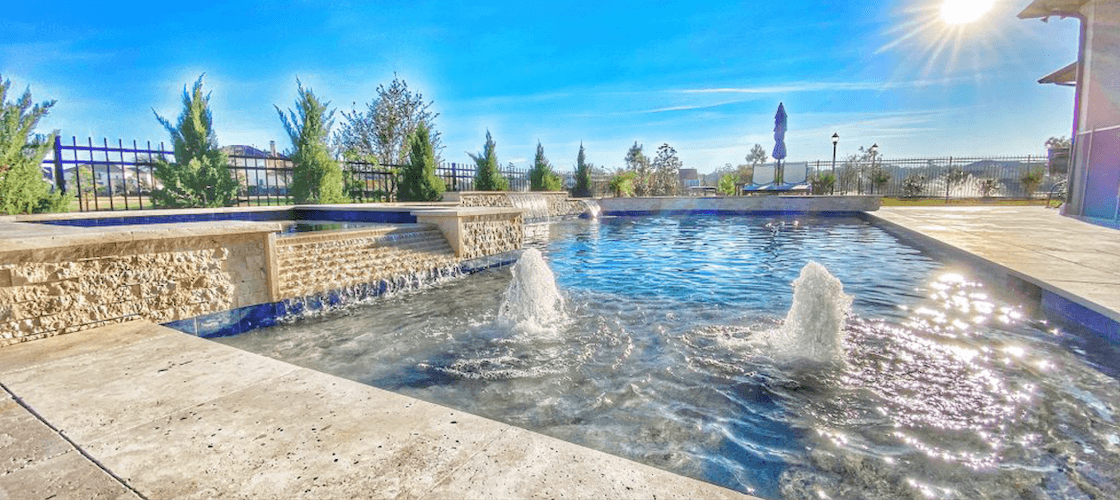 Bubblers
Bubblers are a fun swimming pool feature that the kids and adults will love! They will become a focal point to your new or existing pool. Bubblers provide entertainment and endless playtime for the little ones. By adding led lights, you can create a beautiful look after the sun goes down.
Bridges
If you want to build a larger style swimming pool, a custom bridge is a perfect way to connect different portions together. Not only does it look beautiful, but it also adds a unique feature for swimming under the bridge. From custom stone, wood, and other materials, you can pick the exact backyard design you're looking for.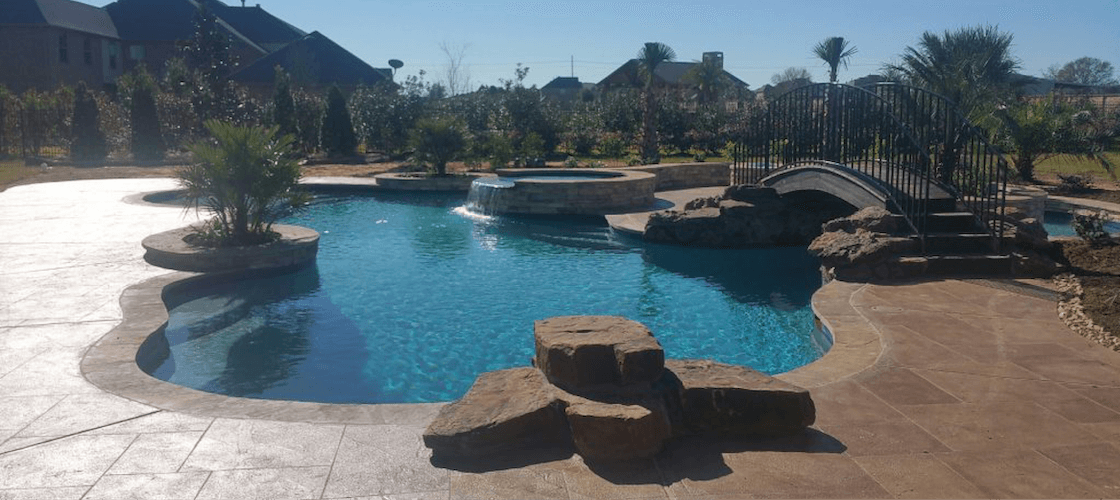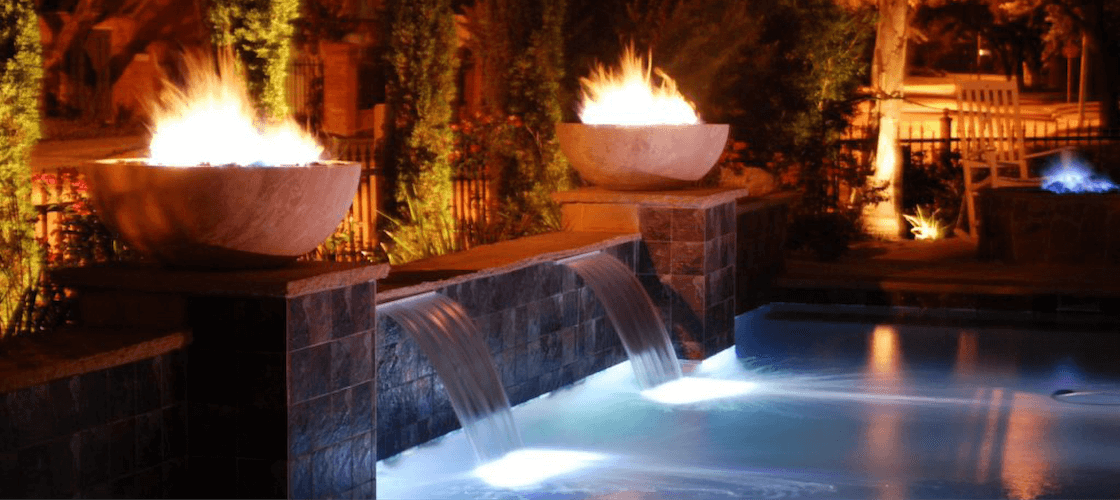 Fire
Light up the night with a custom fire feature. The elegant combination of fire and water feels warm and welcoming. Furthermore, fire pits will help you stay cozy and comfortable on chilly winter evenings.Take a night swim and enjoy the beautiful view!
Pool Water Features Gallery
Contact Us For a Consultation
Ready to get started on your new custom pool and water features? Send us a message or call us at 281-351-1800 for a consultation or for more information.
15 Years in Business. 1000s of Pools Built. 1000s of Satisfied Customers.
Our expert swimming pool builders handle inground gunite pool installations for residential and commercial properties within approximately 75 miles of our business location. We've worked with many of your neighbors in the following areas:
Tomball/Magnolia
The Woodlands
Spring
Sugarland
Pearland
Galveston
Not sure if we service your area? Contact us for a free consultation. At Aquascapes Pools & Spa, we want to help you get the new swimming pool you've been dreaming of.






If you have questions about a commercial or residential project or would like to schedule a no-obligation, one-on-one consultation with one of our designers, please call us at (281) 351-1800. If you prefer, you can e-mail us at info@aquascapespools.com.